I've had a lot of jobs in a lot of places -- hip coffee shop barista, downtown executive assistant, nursing home activities director, and most recently, full-time mama to one fiery little red-headed boy.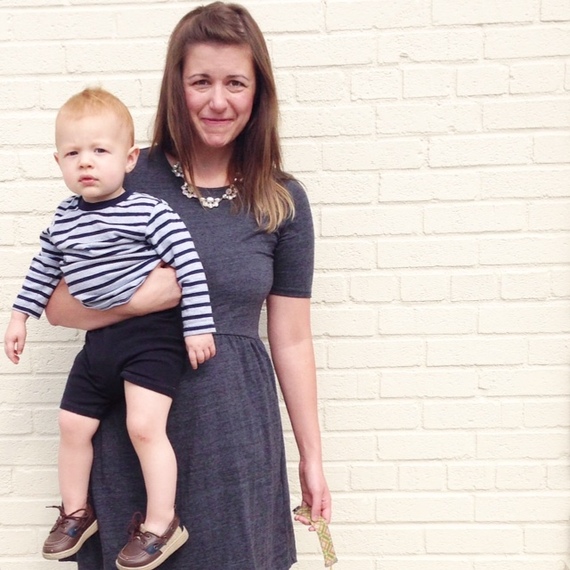 When I found out I was pregnant while working a fast-paced job, I was equal parts shocked and devastated. In my mind, I hadn't achieved my dreams yet, and this unplanned little one was an interruption. I thought motherhood would shrink my world, reduce my capacity, and quench my aspirations. Most of all, I thought taking care of someone else meant losing me. So I resigned to this new chapter life had somehow thrust upon me, my back pocket full of the dreams I'd never realize.

I had every intention of going back to work after my son was born; I even haphazardly enrolled him in daycare. Even though I'd be donating the bulk of my salary to childcare costs, I'm an extreme introvert who bores easily, so with the support of my husband and friends, back to work I would go.

But mothering found a tender place in me, one I didn't know I had. I was due to return to the office at 12 weeks postpartum, but each passing night, my heart sunk deeper. I remember one night in particular, wrestling with a hungry two-month-old who couldn't latch on properly. I cradled him in the bathtub and burst into tears. How could I leave this tiny guy with anyone else? Who would sing him the songs that calmed him or rock him to sleep? Maybe it was hormones or maybe it was the Heavens, but I knew I couldn't go back.

So I added Stay-at-Home Mom to my resume, surprising myself and everyone around me. The nursery became my office, sour breast milk my uniform, and the Kardashians my colleagues. Bored I was, but obviously never short on tasks and projects (i.e. keeping a child alive, learning how to pee again, keeping track of all my marbles while a frazzled newborn screamed in the next room).

Mostly, I relearned creativity, how to leverage the mundane and wield simple joys. Those sleepy newborn days afforded me the opportunity to explore my new found tenderness, and with the excess time the early months offered, I started to write again with my baby camped out at my side.

As Ollie got older, this became more difficult. How could I write and supervise a mobile baby? When will I have time for projects when I'm chasing down a toddler? Soon, his sleep became a pocket of time for me to invest in the craft I'd neglected for so many years in the working world. And little by little, word by word, I peeled off the layers of all the identities I'd forged, and somehow, in the least expected way, I found me again.

I love my son, and just like my other jobs, I love parts of staying at home, but as he grew, so did my restlessness. I'd get jealous of my husband when he'd leave for work, desperate for a creative outlet, adult interaction, and a reason to get dressed up. My eyes were constantly on the clock as I plotted the next nap time I could use for my new freelance writing business. In the back of my mind I wondered: Am I stewarding my gifts the best I can for my family? Could I make more money doing this? Do I have what it takes to write professionally? And most of all, can I reconcile the idea of leaving my son in someone else's care to pursue what makes me a more vibrant human?

Once I took the leap, I realized I'm a better mom when I'm doing what makes me feel alive. I'm a stronger parent while Ollie's at daycare, not when I plop him in front of the TV so I can focus on a deadline. So I put my him in childcare twice a week to pursue freelancing, and just like that, we found our sweet spot. He loves daycare, I love working, and we're both giddy upon our reunion.

Now, my son is almost two, and, as fate would have it, I accepted a full-time job -- my dream gig, writing copy for an agency. All because I quit my job almost two years ago. All because I had time to invest in what brings me life -- time I never would have had if I wouldn't have taken this roundabout path through stay-at-home motherhood.

I've never written full-time, and I don't know how I'll handle having more kids, but I'm confident. More confident than ever that I'm in the right place and doing the right thing. And I'll tell you this: having the right people around -- especially my sparkly-eyed boy and his dad -- makes all the difference.
-- This feed and its contents are the property of The Huffington Post, and use is subject to our terms. It may be used for personal consumption, but may not be distributed on a website.