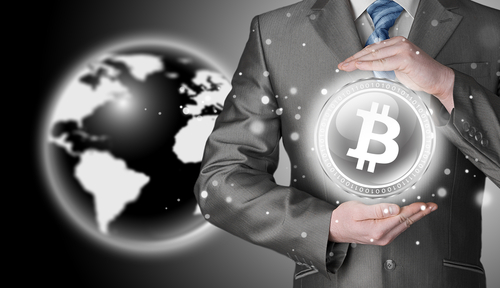 Credit: Shutterstock
When thinking of the future, most have daydreams of hover crafts, intelligent drones, daily holograms, and mind-controlling technology. Some may say that the future is already here (here's to you, Hoverboards!). However, more changes to our everyday lives are coming. Just like email took over handwritten letters and downloadable tunes replaced the iconic Walkman, Bitcoin is the new worldwide currency.
Bitcoin is the answer we've been waiting for to our monetary problems, especially internationally. When purchasing, selling, or transferring money between countries, big fees always stand in the way. We're forced to stalk exchange rates to hopefully get the best deal. Hell, even when we keeping our money within the country, big banks always find a way to slap us with fees. They need to make money too, right?
That's where the beauty of Bitcoin shines. People aren't at the center of this ingenious structure; instead, a powerful network of computers and complicated algorithms run the entire system. Thus, there is no entity, like a bank or government, running the system. Bitcoin is run completely by its users. This will help us take back our control over the money we work hard for. We will be able to use our funds to our best capabilities, without paying the middleman.
The elimination of hefty fees alone is enough for businesses to want to get involved with Bitcoin. Less transaction fees and more availability for customers around the world only opens up windows for your business that other competitors may not have even thought about. For these reasons, my company, Restaurantware, accepts Bitcoin through PayPal, an easy and painless process for our Bitcoin-using customers and us. As entrepreneurs, staying on top of the latest technology and developments is vital for success -- and Bitcoin is the hottest trend right now. Adopting Bitcoin in your business is by far the smartest decision you can make today.
I'm not the only one who is seeing the potential in Bitcoin. Celebrities, like actor Ashton Kutcher, former boxer Mike Tyson, and Virgin Group founder Richard Branson. Some politicians, like Senator Rand Paul, also embrace Bitcoin. Whether they are preparing for the digital future or enjoying the little-to-no processing fees, individuals and companies alike are taking advantage of Bitcoin right now.
Many see Bitcoin's main downfall as its unpredictability, especially in its value converted to U.S. dollars. At the moment, it stands just over $350 for one Bitcoin, but it has fluctuated from $7 to over $1,000. Bitcoin is a risk, I won't deny that -- but, as an entrepreneur, I'm used to taking risks. I have to, just like every other investor. And once Bitcoin stabilizes, the rewards will be worth the ride.
Bitcoin is the economic future no matter how much speculation surrounds it now. The same way my grandmother was wrong when she thought email would never replace handwritten letters, Bitcoin will prove doubters wrong and dominate the marketing world. We will gain control over our currency once again, without having to pay big banks for handling our money. Bitcoin will revolutionize our transactions across the globe.
-- This feed and its contents are the property of The Huffington Post, and use is subject to our terms. It may be used for personal consumption, but may not be distributed on a website.