An online search of the keyword gratuity yields the following origin: "Late 15th century (denoting graciousness or favor): from Old French gratuité or medieval Latin gratuitas 'gift', from Latin gratus 'pleasing, thankful'." Apply that definition to the service industry today and it begs the question: Since when did it become an expected reciprocation from the customer for someone who should be providing a certain level of service as part of their job? Yes, I am well aware that the required minimum wage for tipped workers is lower than the minimum wage in a region. I am in no way proposing that servers make less than a living wage. A number of simultaneous debates and conversations are occurring today on the issue of tipping in the restaurant industry. Recent articles include an op-ed piece suggesting that tipping is wrong based on its history at least in the United States while another highlights some high profile US restaurateurs leaning that way.

We are in our eight year at Cress Restaurant in DeLand, FL. When we turned seven on August 29th of this year, we made the conscious decision to eliminate tipping in a traditional sense. Our model now adds a fixed 18% service charge to everyone's bill. This is made clear on the menus. Historically, a guest at a restaurant in this country would feel obligated to pay at least 20% for decent service and would be happy to pay more should the service be stellar. Certainly, should the service be less than decent, guests would be justified (much to the chagrin of the server) in tipping a smaller percentage. In some instances, guests unfairly punish the service. Since we changed our concept at Cress, my sous-chef and I take you through (as in, not only do we prepare all your food, we are also your servers) the entire dining experience and each guest can avail of a certified sommelier (my wife and co-owner of the restaurant). A dining room staff member keeps each table stocked and unloaded. A guest receives all this for an 18% charge which is re-distributed equitably among all staff. Now, the front of the house staff makes an hourly wage comparable to the back of the house resulting in a smaller standard deviation for hourly rates at our restaurant. And to be clear, our average hourly wage is probably the highest in our town for our industry and almost twice the minimum wage for the state of Florida. We would consider raising our prices to absorb the service charge as we get more grounded in our new system. For the record, our menu prices have remained unchanged since the day we opened.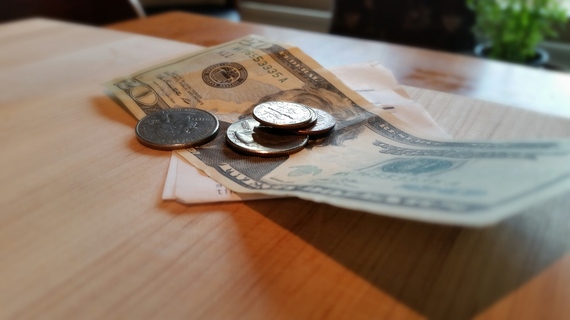 One of the criticisms of eliminating tips in restaurants and compensating service staff with a higher hourly wage instead is that doing so would weaken one's incentive to excel. This may be the case for the foreseeable future, but that argument is fundamentally flawed. When an 18-year-old high school student starts as a dishwasher in my kitchen, they already start at well above the minimum wage in our state. But it doesn't end there. With evidence of job improvement, they are always rewarded with increases in their hourly wage. The same should be true for the service staff. When the evidence points towards job excellence (yes, it is still only a job for most; pride in occupation is a dying trait), an increase in the hourly wage is definitely warranted.

Historically, the pay inequity between the front and back has been divisive, unhealthy, and plain unfair. We can attest to this because my wife and I wear both hats. We serve and manage every aspect of our restaurant. My wife provides her expertise as a trained sommelier and helps me with menu development, and I cook. Under the previous (more traditional) model, our own hourly wages as independent restaurateurs, who do it all, paled in comparison to what our servers were making (despite all their mistakes and sometimes, blatant apathy). Even though our new concept is still in its nascency, we are pleased with how matters are progressing and cannot imagine returning to the other model. We have the luxury of operating a small restaurant by most standards, so when a larger restaurant group announces a similar policy shift, it is that much more noteworthy and promising. Ultimately, transparency in all matters of food and its presentation is a key to improving failing aspects of the food industry.
-- This feed and its contents are the property of The Huffington Post, and use is subject to our terms. It may be used for personal consumption, but may not be distributed on a website.