Illinoisans are used to less-than-great economic news about the state, especially when it comes to
jobs and business
. But new data from the U.S. Bureau of Labor Statistics (BLS) seemingly contradicts the notion that new businesses avoid Illinois because of the state's financial mess and high taxes.
Along with this unexpected news is a recent analysis by NerdWallet that ranks the best cities in Illinois to start a business, but we'll get to that in a minute.
In the fourth quarter of 2014, the number of businesses in Illinois increased by 4.7 percent from the previous year, to 421,908. The only other state that added more businesses during this period was Massachusetts.
Yes, you read that correctly. Illinois ranked second among states where new businesses are being created the fastest, followed by Oregon, Delaware and Georgia, according to Bloomberg's analysis of BLS data.
While the data doesn't specify the type of businesses, top-notch universities seem to be a common denominator in states that had the biggest growth in new employers, said Robert Atkinson, the president of Washington's Information Technology & Innovation Foundation. The density of young firms and population diversity in large metropolitan areas also could play a role.
Here's what Jeff Winick, an attorney at the Chicago-based law firm Harris Winick Harris LLP,
told Crain's Chicago Business
:
"We haven't gotten behind these numbers, but the numbers are more important than the anecdotes. If the numbers suggest in fact there is business creation and in fact they are making more money, that is the reality," Winick said. "That's a very good thing for the state."

Although the data did not break down business creation numbers for every county in Illinois, Winick said the state's boost is likely coming from Chicago. Young professionals flock to the city and Illinois natives stay in the state because it has such an attractive metropolitan area, which bodes well for business creation. The construction boom in the city has also likely helped, creating an environment ripe with opportunity for small contracting businesses to get off the ground, he said.
Illinois is the state with the second-best environment for starting a new business. Here are 10 of the best cities for starting a new business in Illinois: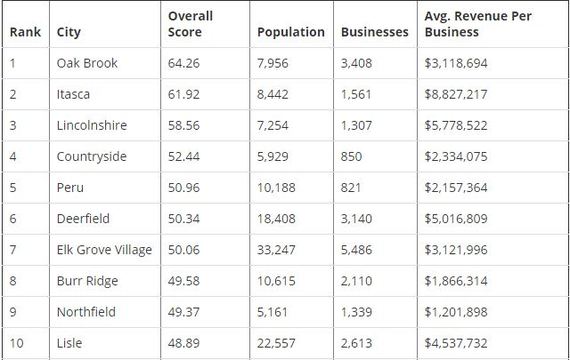 (Check out Reboot Illinois to see more of the
state's best business-starting metro areas
.)
RECOMMENDED:
-- This feed and its contents are the property of The Huffington Post, and use is subject to our terms. It may be used for personal consumption, but may not be distributed on a website.