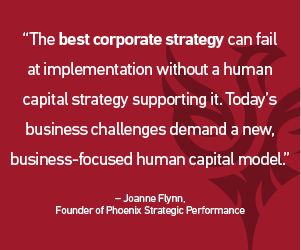 If you say people are your most important asset, it may be time to rethink what that really means to your organization. How do your current human assets perform relative to your organization's requirements for growth, competitive positioning, transformation and business agility - the ability to deploy human assets on demand? All these strategic business issues require complex, future-focused approaches that replace outdated, underperforming methods.

If the measure of success for every company is the realization of maximum business value based on value creation, then every human asset should be a value creator.


The Challenge:
Replace short-term, cost-center focused people strategies with a well-considered, long-term, human asset management strategy. If people are assets, they must be treated like any other organizational asset.